CATHEDRAL-64
- 2023 - HARVESTWORKS - NEW YORK, NY -

Printed Circuit Board, Electronics, Speakers, 18-2 Speaker Wire, Hardware
A spatial audio instrument and composition system, controlling 64 sample accurate 1-bit audio channels.
Swarming tones shift and modulate over time, dancing across the walls of the Cathedral. A wafting sound that hangs heavily in the air like incense.
PHOTO/VIDEO: ANDRES MERCADO
---
Cathedral-64 is an immersive audio installation and instrument exploring the use of a very large number of spatialized sound sources. 64 individually controlled speakers are driven with sample-accurate 1-bit (square wave) outputs from a custom designed electronic audio system. The piece explores the musical and psychoacoustic possibilities of this instrument, with an emphasis on continued compositional experimentation throughout the duration of the exhibition.
The central electronic elements of the piece are displayed on a pedestal in the center of the space, with cabling running up to the ceiling and out to each speaker, creating the impression of a vortex or pillar of wire. 64 speakers are mounted in a grid pattern on the space's walls and ceiling, surrounding the listener in fully 3-dimensional sound.
The piece works both on an auditory and a visual level, by creating a deeply physical and meditative sound environment, while simultaneously displaying the beauty of the instrument and the hardware used to create the sound.
ARTIFACT SERIES
+ 2023 +
Printed Circuit Board, Electronics, Subwoofer Speaker, Blackened Carbon Steel, Brass Loudspeaker Spikes (Satin Nickel Finish), Birch Rod, Hardware
A one-channel bass synthesizer and speaker amplifier with aux input.
Deliver thine enemy a right sonorous blow.
PHOTO: NO GALLERY NYC, ANNA LOUISE
---
ARTIFACT is an ongoing series of sonic weaponry, wherein medieval armaments are imbued with electronic power via built-in audio synthesis and amplification systems. Weapons function simulatenously as installation pieces, generating autonomously synthesized electronic soundscapes, audio playback systems, amplifying user audio input, and performance instruments, synthesizing audio in a live context based on user control.

ASCENDING... ...DESCENDING
KNAVE, GREAT WURM, AND THE STARRY FIRMAMENT
- 2023 - DUNKUNSTHALLE - NEW YORK, NY -

Printed Circuit Board, Electronics, SLM Printed Steel, Poplar, Baltic Birch with High Voltage Woodburning, Hardware
A rotary spark gap and Shepard tone based drone synthesizer.
The knave, humble man, looks out at the whole of the cosmos: the great chain of being, the wurm's coiling body, the night's blackened tendrils, the impassive stars. A spark breaks the aether where the material meets the divine.
PHOTO: DUNKUNSTHALLE NYC
BLIND LEGIONS
- 2023 - MILLENIUM FILM - NEW YORK, NY -

Printed Circuit Board, Electronics, Speakers, Reclaimed Wood, 18-2 Speaker Wire, CRT Monitors, Video, Hardware, Molted Cicada Shells
An electromechanical insect swarm, enacting an apocalypse narrative via control voltage synced auditory behavior.
The insects rush toward the point of frenzy, blind legions, caught in a momentum of their own making. Larvae twitch in waxen cells, bathed in a honey-colored light, while chitinous wings cut patterns in the pheromone laden air. Drawn ever forward, they fall into the roiling vortex, to die amid bolts of lighting and the smell of ozone.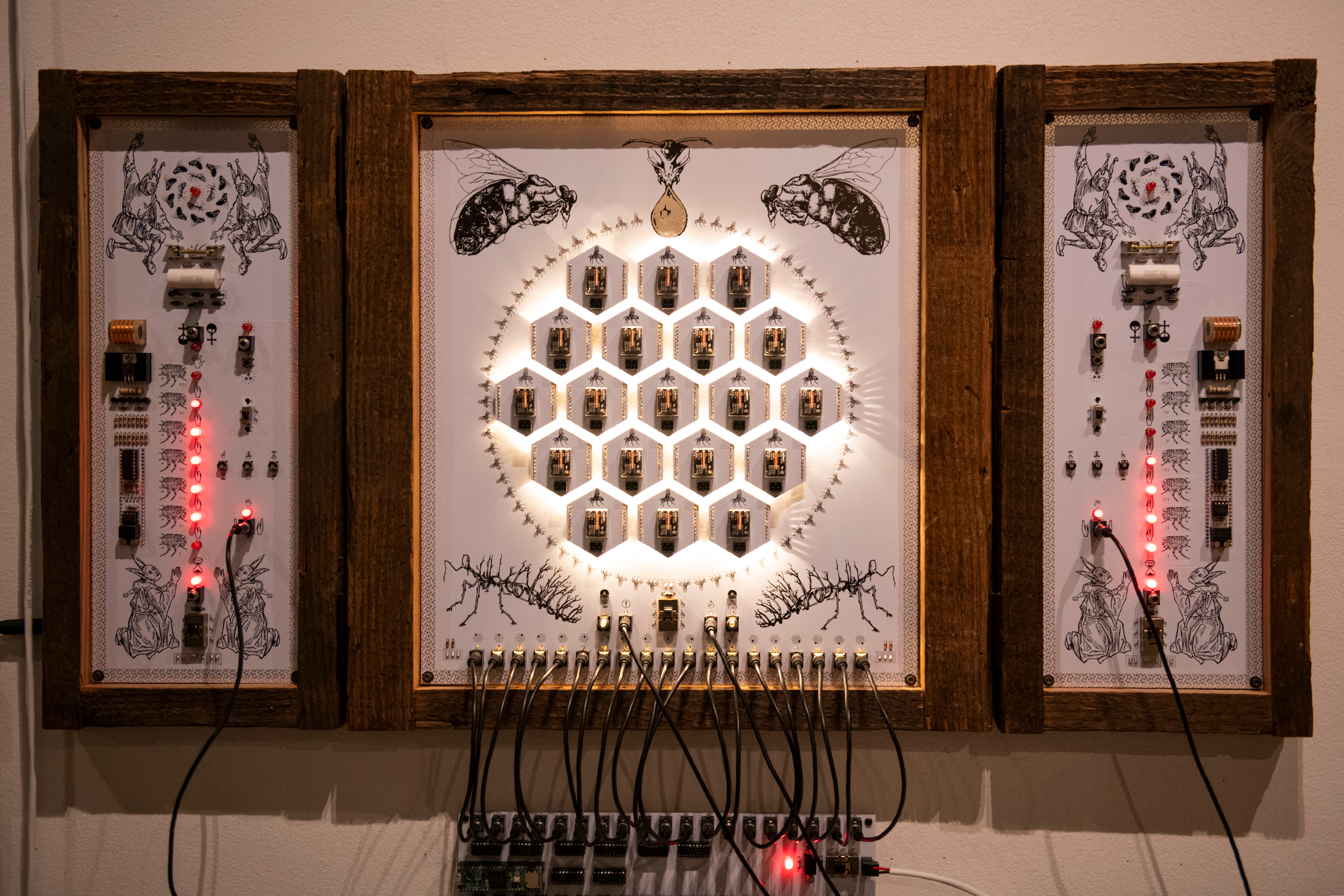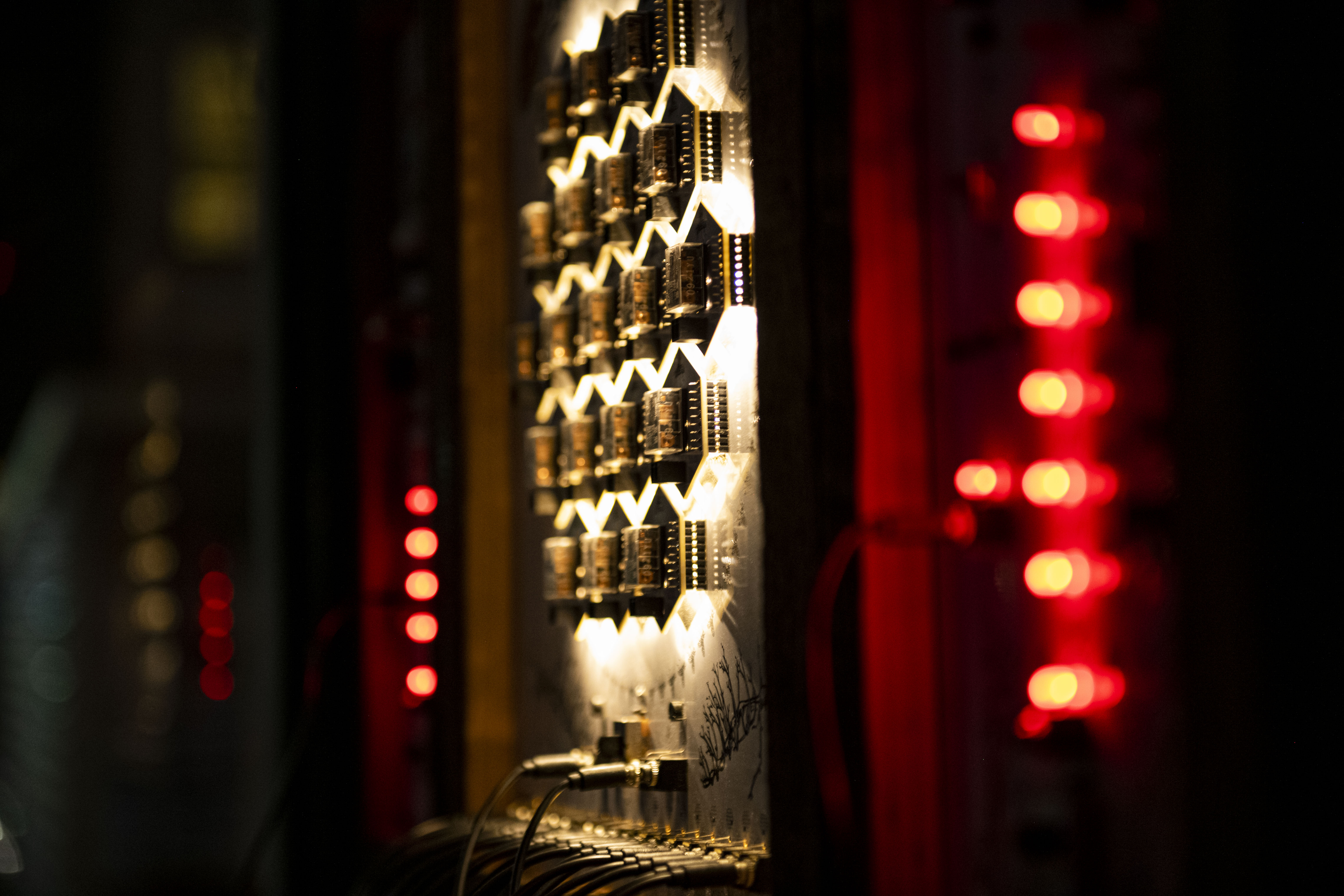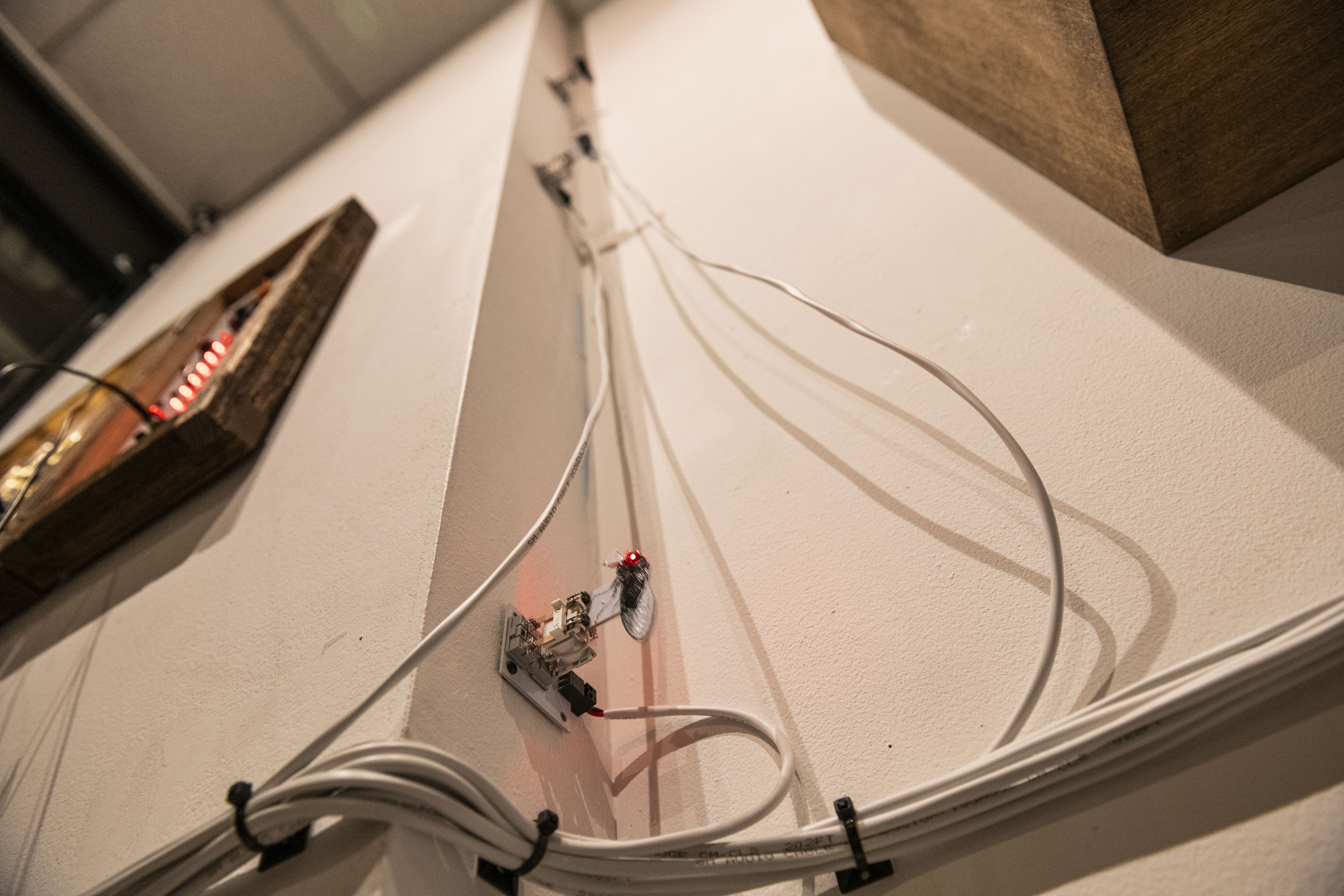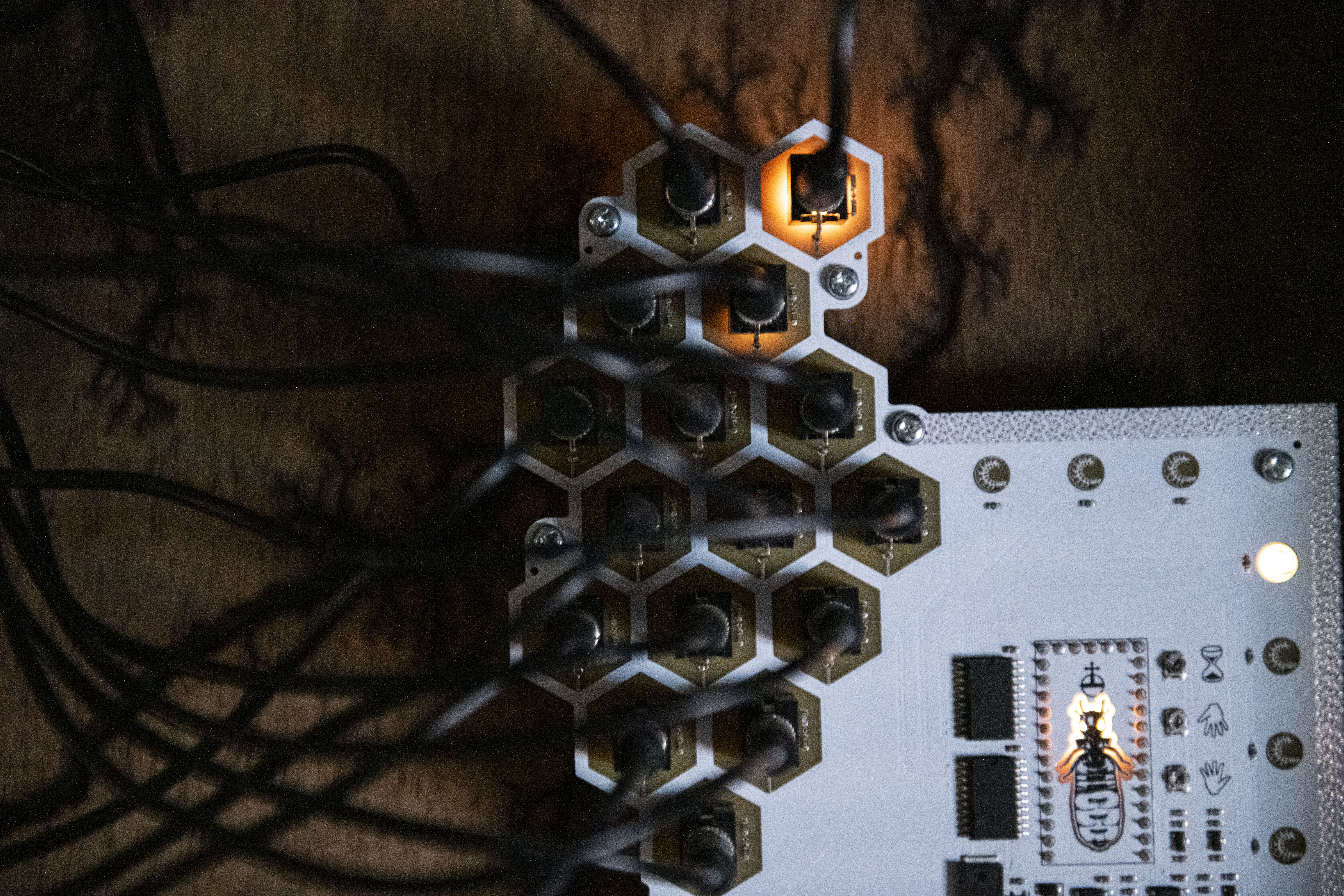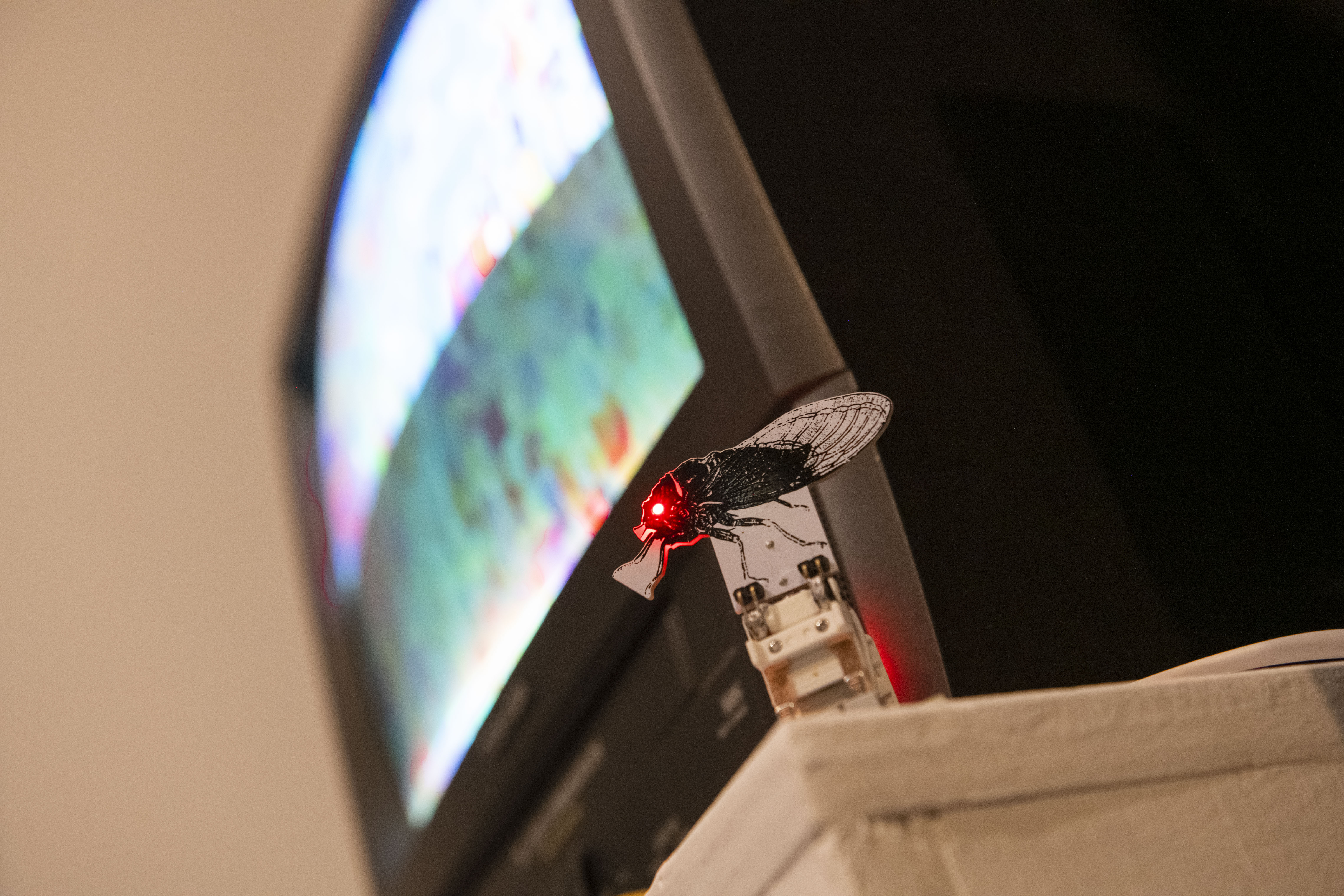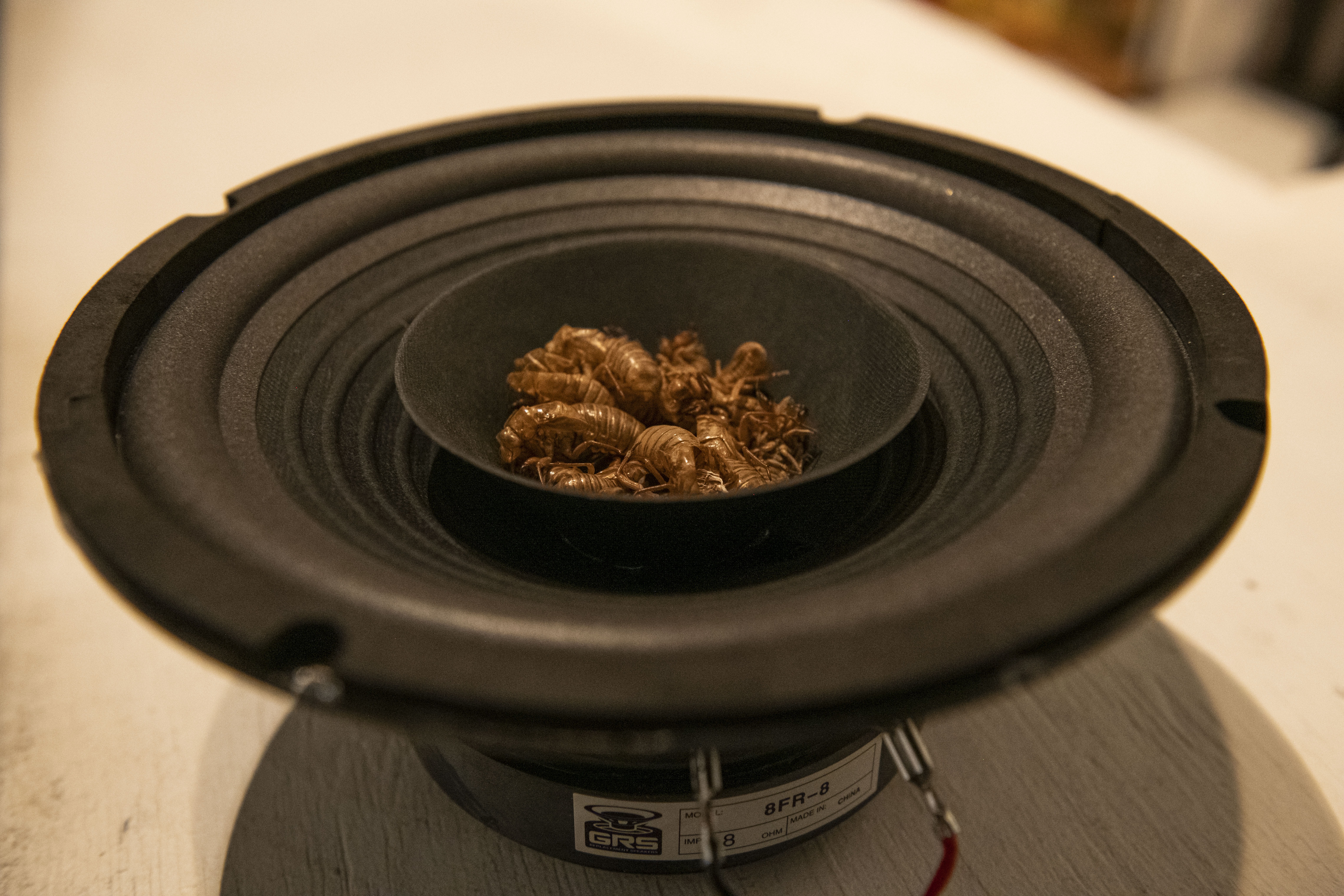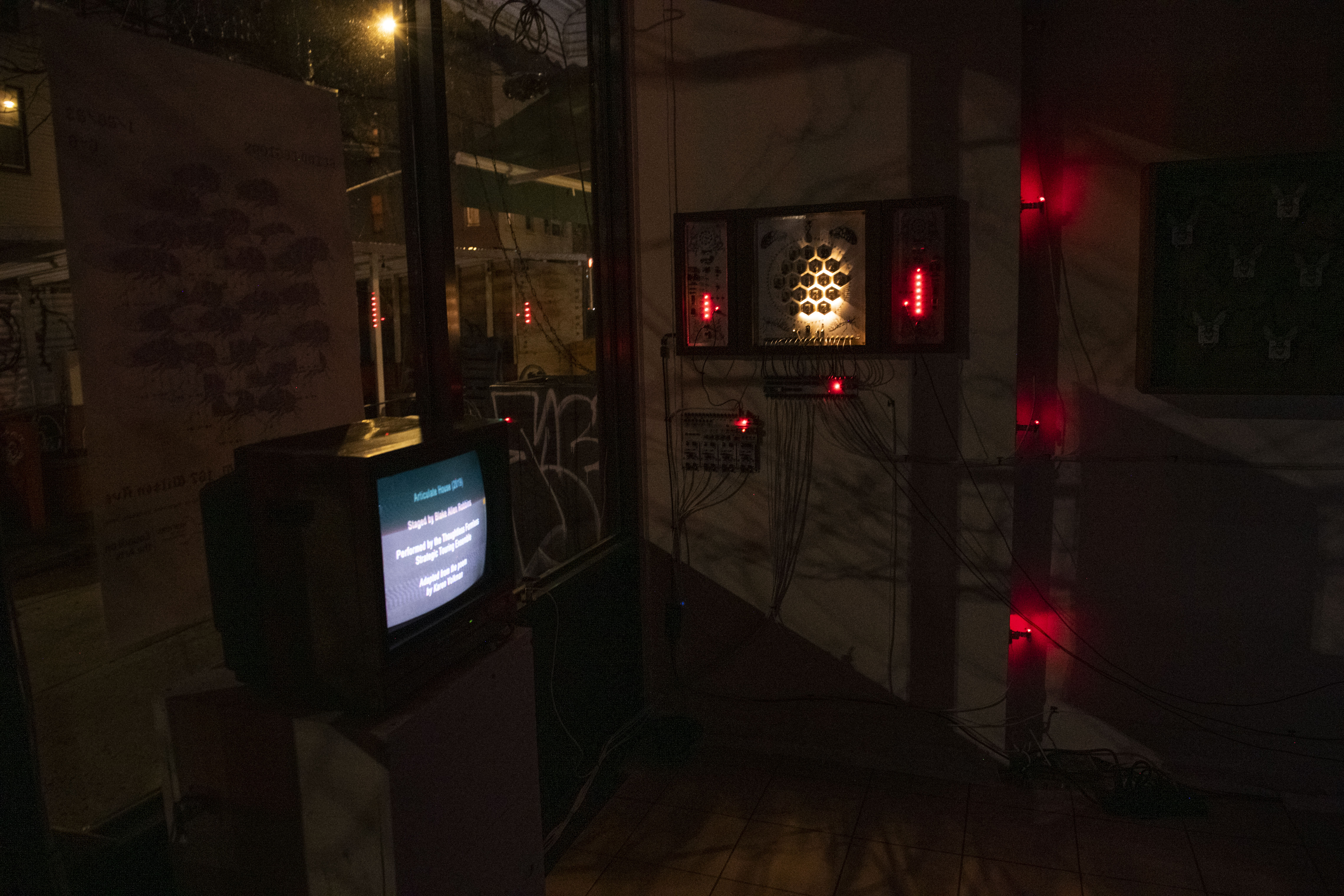 PHOTO: ANDRES MERCADO, VIDEO: TOMI FAISON
---
Blind Legions uses the behavior of circuitry to convey an apocalyptic narrative: the story a catastrophic event brought about by civilization-wide momentum and exponentially increasing rates of change. Incorporating a series of sonic sculptural works designed over a two year period, Blind Legions realizes their full modular potential, synchronizing behavior via analog control signals in service of a unified narrative.
Swarms of electromechanical insects feed off their collective momentum, hurtling towards a doom of their own making. Simultaneously, a series of video works are modulated in time with the swarm behavior, pushed towards incomprehensibility during the exponential rise and lingering as solitary impressions within the apocalyptic fall.
Blind Legions is a meditation on our modern conception of apocalypse. Within a cultural and material system predicated upon infinite progress, it becomes necessary that we envision a cataclysmic event which might bring instantaneous resolution to this otherwise unsustainable momentum. Blind Legions serves simultaneously to envision the reality of this event, in all it's inevitability and horror, and to imagine the ways in which this conception may be artificial, a convenient substitute for the true reality of time; as a process unending and beyond human comprehension, moving in a direction all its own.
TOMB OF MY YOUTHFUL HEART'S DESIRE
- 2022 - MERY GATES - NEW YORK, NY -

Printed Circuit Board, Electronics, Reclaimed Wood, Silvergleam Solder, Magic: The Gathering Trading Card (Glacial Chasm), Personal Computer Subwoofers, Projection
A series of physical modeling heartbeat synthesizers, clock synced with looped historical footage.
In my youth I saw only beauty, until Glacial Chasm broke my heart.
"When I was 14 years old I was a semi-professional Magic: The Gathering player. It was the most dedicated and focused I've ever been on anything. I believed in the game with the kind of monomaniacal fervor that only youth makes possible. It was the final round of SCG Open Dallas, with thousands in prize money and a first place trophy on the line. I was playing the final game of the match, and I had my opponent on the ropes. I attacked with all my creatures, presenting lethal damage. But then, the judges stopped the game. In my haste to seal my victory, I had not sacrificed Glacial Chasm, a card which states players cannot attack. I received a technical rules violation for attacking with it in play. The penalty was game loss and disqualification from the tournament. An event which should have been the crowning achievement of my career was instead a devastating blow. I lost heart and my focus suffered. Mixed with the inevitable process of growing up, I began to view my passion as a dead end. I turned my back on Magic, putting this truest of all desires away with other childish things, until now."
Tomb of My Youthful Heart's Desire is an installation piece built around a series of custom electronic reliquary objects, each of which functions as a generative heartbeat audio synthesizer, with the card Glacial Chasm entombed in solder amid the circuitry. Heartbeat audio is synchronized with a projection of original 2009 press footage from the final tournament match, speeding up to a frantic pace and eventually breaking when the final game loss is delivered, creating a requiem for the loss of a passion that only youthful innocence could sustain.